Namaste,

In India, it is custom to greet visitors with " Namaste." It means we respect you and the soul within you and you are welcome. Similarly today I am welcoming you to my website.
My name is Puja Mehta, and Indian Meal Kit is my small adventure into the Indian cuisine.
What is an Indian Meal Kit?
Indian Meal Kit is a solution for anybody who loves Indian food and would like to explore vegetarian cooking at home. You can purchase your Indian Meal Kit at LaCrosse WI Food Co-Op, Festival Foods Onalaska WI and Woodman's Onalaska WI.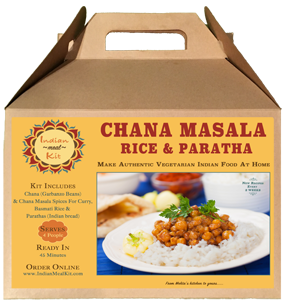 In your kit you will find everything you need to make a healthy and delicious vegetarian meal for 2- 4 people. Most of the vegetables are washed and already cut up for you. Spices are pre-measured. Cooking directions are easy to follow and your meal will be ready in 30 to 45 minutes!

You can make a delicious and healthy meal in a fraction of the time it takes to drive to a restaurant, wait to get seated and then wait for your food. It also saves time because most of the prep work is already done! Indian meal kit is economical too! Four people can enjoy an authentic Indian dinner for about 1/3 the cost of going to a restaurant.
Who We Are
Indian Meal kit is introduced in Lacrosse region by me and my husband Pavak Mehta. We live on the Minnesota and Wisconsin border and we are in love with the beautiful bluffs that border the Mississippi.
My love for cooking started after I came to the United States from India. I remember the early days almost 14 years ago when I used to call my Mom and ask for recipes to make some of the basic Indian food which we usually eat at home in India such as Dal (lentil soup) and Chawal (Rice). Then I met a sweet guy, now my husband Pavak, who taught me a few more recipes. Finally I could eat for a week without ordering take-outs. With his help and both of our moms, I can say that I have learned the skill of making authentic Indian food healthy but keeping the same flavors of India.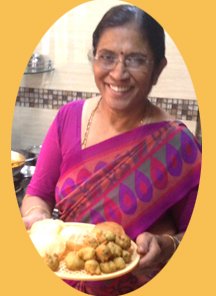 Life was easy when it was just the two of us. But after my two daughters Arya and Adiya were born, I became more sensitive about what food I was feeding them. I was concerned if our vegetarian family was getting the proper nutrition, protein, vitamins and minerals that we need in our daily diet. My mother-in-law helped me understand the health benefits of all the vegetables, lentils and spices we use in India.
How We Got Started
A lot of people I know love Indian food, but they also think that Indian food is very hard to make at home. When I mention to my friends that they can make a very healthy vegetarian meal in their home in 30-35 minutes, they excitedly asked "how?"
That question sparked an idea about making an Indian Meal Kit that provides all the spices and the vegetables Indian food can use to make an authentic healthy vegetarian Indian food at home.
I teach Indian cooking classes so it was easy for me to see what people are looking for in Indian cooking. It is my belief that home cooked fresh food made from raw ingredients is healthiest for our well being. This inspired me to act on this idea and turn it into a reality. My husband, kids and the loving friends who surround us were the inspiration behind launching this product.
My Family History of Cooking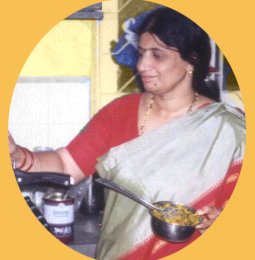 Growing up every day my mother would make wonderful vegetarian meals from locally grown ingredients. I was blessed to have a unique family. Believe me when I say "unique" from an Indian perspective. My mom is from the state of Gujarat in western India and my father is from the southern state of Kerala. In India every state has its own language, cuisine, and rituals. I was blessed because my mom was (and still is) a really good cook and she made sure we ate a variety of foods from both Gujarat and Kerala. Also since my father's job required traveling, we moved to different states. Wherever we moved my mom learned the cuisine of that part of India.
When I was 8 years old my mom started teaching cooking classes in Calcutta where my father was stationed at the time. Dozens of ladies used to come to our home in the evenings to learn to make Punjabi food (Northern India) and Gujarati food. After classes, my dinner would always be the yummy leftovers :)
My mom didn't stop there. She expanded her experience and now she has a catering business in London called Chatore. So I never had to look anywhere else for inspiration. I had everything I needed right in my family.

Cooking has always been a part of my family, my heritage and my culture.
We have tremendous passion for what we bring to our customers and we are proud of it.

We prepare your meal kit just the way we prepare food for our own family, with the same care, quality, love and respect.

Best of all, we take the work out of cooking so you can have more fun making a healthy dinner for you and your family!
Aawjo!

In Gujarati (Western State of India), we tell our friends "aawjo" which means "please come again!" It is pronounced "ow-jo."